Nederland, Gelderland
SLIJK-EWIJK / GAT VAN HAGE
436
/
1
/
divemap
/
1
/
9
Heerlijke rustige duik gemaakt.
3 m Visibility
19 °C - m
Willy Remmers, Gerty en Nicky
5-7-20
Veel stof door andere duikers. Op diepte wel goed zicht.
6 m Visibility
8 °C - m
Leuke duik flinke snoek gezien zicht tot 5 meter ongeveer 3 meter op 10 meter ongeveer 5 …
4 m Visibility
24 °C - m
Duiverening Vechtdal
28-6-20
Helder water. Bijna blauw. Lekker fris op diepte.
7 m Visibility
8 °C - m
Leuke duik maar het zicht een stuk slechter door drukte en zwemmers afgelopen week. Onder …
3 m Visibility
15 °C - m
Niet dieper dan 7 meter geweest.Het zicht op 4 meter was slecht, op 7 meter iets minder …
2 m Visibility
23 °C - m
Zeer helder zicht, water stak Helder blauw af Tegen de groene ondergroei, zwaar gehavende …
8 m Visibility
24 °C - m
Willy Remmers & Rob Zeeduivels
26-6-20
Grote scholen vis met baarzen. Zicht wisselend. Ondiep erg warm water.
7 m Visibility
23 °C - m
Bij instap na links langs riet tot de overkant op 4.5 meter diep heel veel kleine vis …
5 m Visibility
21 °C - m
Wisselend zicht maar goed. Gezien: 6x Snoek, slak, grote Baars mega veel.klein vis . 123 …
6 m Visibility
21 °C - m
mooie duik mooie snoek en voorntjes grondel baarsjes zicht was zeer goed tot 10 meter.
10 m Visibility
13 °C - m
Willy Remmers en Alex Veldt
21-6-20
Zicht beduidend minder dan vorige week. Op sommige plekken toch nog goed. Op diepte …
6 m Visibility
8 °C - m
Leuke duik, mooie snoek en veel zicht
Zeeduivel Willy en alle leden
13-6-20
Eindelijk eens iedereen aanwezig. Gezellig gegeten en lekker gedoken. Goed zicht en een …
8 m Visibility
10 °C - m
Mooie duik. Aantal grote snoeken gespot. Erg goed zicht op diepte.
8 m Visibility
9 °C - m
SLIJK-EWIJK / GAT VAN HAGE
Nederland, Gelderland
Slijk-Ewijk is a very nice dive site with often good visibility, lush vegetation and a lot of fish. The gently sloping bottom consists of light colored sand, interspersed with dark rock formations. This creates the illusion of a moon landscape. West of the entry are several walls where you can spot eels and crayfish. Night diving at Slijk-Ewijk is really something special. With some luck you spot hundreds of bass, sleeping on the bottom. Furthermore, there are plenty of recreational activities for a fun day with the family.
Particulars
Enter the water from the north shore. Right before the entry Slijk-Ewijk is relatively shallow. This creates great opportunities for snorkeling. Visibility is good and there are plenty of small fish. Diving is also possible on the southwest side of the lake.
Warnings
At Slijk Ewijk a parking fee is required. You can also buy a year permit.
Read more
SLIJK-EWIJK / GAT VAN HAGE Divemaps
1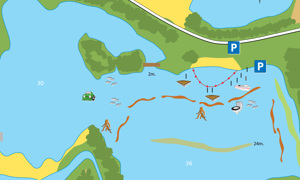 Members only
Divers Guide Map

Detailed map

Wreck map

Local map
SLIJK-EWIJK / GAT VAN HAGE Features
Nicknames

Strandpark Slijk-Ewijk,Valburg,Gat van Hage,Watergoed

Address

Valburgsestraat, Slijk-Ewijk

Parking

Sufficient parking
Distance

50 m.

Suitable for

All levels, disabled divers , night diving, snorkeling, scuba diving practice, technical diving

Permit

N.v.t. / NA

Access

Free access paid parking

Facilities

Shower, toilets, restaurant

Water

Fresh

Kind of dive

Shore dive

Current

None

Visibility

3 - 15 m.

Average visibility

5 m.

Depth

36 m.

Bottom

zand,veel begroeiing

Life

Bream, carp, pike, roach, crayfish, perch, pike-perch

Other recreation

Beach volleyball field, canoe rentals, recreational center omnivens , playground ship, quadbike riding, beach with lawns and playgrounds, wind surfing , swimming , biking, fishing

Emergency

112
SLIJK-EWIJK / GAT VAN HAGE Photos and Images