Vandaag een dagje wezen duiken in Monte mare! 2 duiken gemaakt en …
10 m Visibility
28 °C - 10 m
Mooie combinatoe van rust in het sauna complex en genot van …
10 m Visibility
29 °C - 10 m
Mooie plek voor als je de snoeken even zat bent. Leuke dag gehad …
10 m Visibility
21 °C - 10 m
Didi Cassandra Caroline Peter
23-02-2019
3dubbele duikdag in Montemare gevolgd door een Naked diving …
10 m Visibility
28 °C - 10 m
Hanssens Didi peter vanderborg
3-03-2018
Heerlijke combinatie van duiken spelen en saunas...genoten …
10 m Visibility
27 °C - 10 m
Steven Stegeman
15-01-2016
Voor het eerst gedoken hier. 3 lekkere duiken in de shorty …
20 m Visibility
28 °C - 10 m
Heerlijke 2duiken en sauna,turks,sneeuwbad na de duiken,echt een …
10 m Visibility
28 °C - 10 m
Leuk om er te duiken en je oefeningen te doen 2 keer gedoken die …
10 m Visibility
30 °C - 10 m
Leuk om te oefenen en gezellig met een groep te gaan duiken. Pas …
15 m Visibility
27 °C - 15 m
Leuke bak met water. Perfect om allerlei oefeningen te doen. Let …
15 m Visibility
28 °C - 15 m
Monte Mare is an indoor swimming pool with sauna, spa and diving pool. Children can have fun in the pool and you can make a relaxing dive. Always first register on the website!
Particulars
There are tubes in Monte Mare where you can dive through them. You will also see training platforms, artificial caves and a wreck. Contents: 10 million liters of water. Temperature: 28 degrees.
Warnings
No access in Monte Mare without reservation, medical report and health certificate.
Read more
MONTE MARE Features
Address

Münstereifeler Straße 69, 53359 Rheinbach

Parking

Sufficient parking

Distance

20 m.
Suitable for

Beginners, advanced divers, helmet diving, scuba diving practice (at one of the diving schools)

Permit

N.v.t. / NA

Access

Booking only on wwwmonte-marede your physician report and health declaration will be checked!

Facilities

Shower, dive center , lift, lockers, restaurant, changing rooms (ladies and gents seperated), toilet, rental

Water

Fresh, warm

Kind of dive

Indoor

Current

None

Visibility

10 - 20 m.

Average visibility

15 m.

Depth

10 m.

Bottom

steen

Life

None

Other recreation

Wave pool , sauna, wellness, swimming pool

Emergency

112
MONTE MARE Photos and Images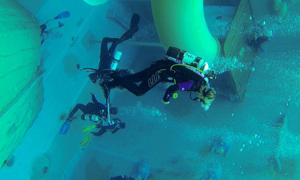 Current weather conditions
Wind :
Condition :
Temperature : °C
Spots nearby

Dive4life (28,69km)

Fuhlinger see bb (44,61km)
Read more