Op verschillende dieptes kwamen we vervallen en onafgemaakte platforms tegen en een dixi …
8 m Visibility
4 °C - 10 m
Dick, Manuel & Jeroen
3-2-21
Nieuwe stek voor ons. Helaas geen infobord waar te water te gaan. Mooi veen richels en …
8 m Visibility
5 °C - 20 m
Lekker verkoelend duikje 40min, Weinig Leven maar zeer goed zicht 👌 En mooie foto's kunnen maken.
11 m Visibility
5 °C - 15 m
Fris duikje, weinig leven ,veel visgerei bij t riet
2 m Visibility
11 °C - 10 m
#TheWave Nicholas & Marieke
11-10-20
Alles voor het 'knipje'😁. Thermocline op 10 meter, scholen baarsjes en witvis rond 5-6 …
2 m Visibility
7 °C - 15 m
Zeer slecht zicht,geen stof maar mist halve meter.weinog leven.
1 m Visibility
6 °C - 10 m
1 m Visibility
9 °C - 10 m
Gerard en Ronald
27-10-19
Veel klein spul en een snoek.helaas veel vissers.
2 m Visibility
13 °C - 10 m
Veel klein baarsjes ed geIen. Nacht avondduik tijdens rescue oefening
4 m Visibility
14 °C - 5 m
Rene,Ed,Simon,Woody,Huub,Mirja
4-8-19
Voor het eerst gedoken op deze stek. Blauwalg.Erg slecht zicht! Op 20 m iets beter, op 2 …
1 m Visibility
6 °C - 20 m
Zicht ca 30 cm boven 9 meter, daaronder ca 70 cm.
1 m Visibility
13 °C - 15 m
Zwemwaarschuwing: blauwalg. Slecht zicht op alle dieptes tot onze mdd van 13 meter.
1 m Visibility
8 °C - 15 m
Zicht < 5cm. 1 meter onder de 15m. Bodem volledig bedekt met witte schimmel.
1 m Visibility
17 °C - 5 m
OVERAL LEVEN! Rechts uitgezwommen, wolken garnalen, kreeften, voorn, baars en pos in …
2 m Visibility
5 °C - 15 m
Geen leven.dkecht zicht.nog evenwachten dus
1 m Visibility
6 °C - 10 m
KLINKENBERGERPLAS
Nederland, Zuid Holland
Visibility is not great in the Klinkenbergerplas. The bottom sediment swirls up easily, and the excavation is very susceptible to blue-green algae. Watch your fin stroke and dive in spring and autumn. Under water you'll find various objects and three diving platforms. Dive along the reed banks and between the concrete debris on the west bank to spot fish.
Particulars
The Klinkenbergerplas has two entry points. The disadvantage of entry point 1 is the soft bottom and the long walk from the parking lot. Entry point 2 doesn't have these inconveniences but can be very busy in sunny days.
Warnings
The Klinkenbergerplas is full of debris. Watch out for steel and pointy objects.
Read more
KLINKENBERGERPLAS Features
Nicknames

De Klink

Address

Poelruiterpad 1, 2343 Oegstgeest

Parking

Sufficient parking
Distance

100 m.

Suitable for

All levels

Permit

N.v.t. / NA

Access

Free access

Facilities

Dixi-toilets in summer season, snack car

Water

Fresh

Kind of dive

Shore dive

Current

None

Visibility

0,5 - 4 m.

Average visibility

2 m.

Depth

25 m.

Bottom

modder,zand

Life

Bullhead, pike, pike-perch, roach, perch

Other recreation

Beach recreation, surfing , swimming

Emergency

112
KLINKENBERGERPLAS Photos and Images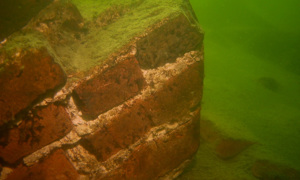 Current weather conditions
Wind :
Condition :
Temperature : °C