Mooie duik, een van de favo stekken op eiland. Groot langsnuit …
30 m Visibility
28 °C - 20 m
Divercorneuijens
19-11-2021
Heerlijke duik met veel stroming, bij omkeer lekker zweven! Het …
25 m Visibility
28 °C - 10 m
Rick van Havezaat
16-10-2021
Grote zandvlakte voor je bij het koraal komt.\n
25 m Visibility
28 °C - 28 m
Diver Corné Uijens
27-09-2021
Vanuit de baai naar links, niet al te diep 7,5m. Veel vis, …
40 m Visibility
29 °C - 10 m
Eerste duikje op Playa Langun met Bahia appartements and diving. …
25 m Visibility
28 °C - 20 m
Gerard Verbree
21-12-2020
Dirk, Michelle en Marnix
16-11-2020
Hele mooie duik, alle murenes, wit, goud zwart en groen. …
25 m Visibility
25 °C - 15 m
Peter Groeneveld
3-09-2019
Schitterende plaats. Zowel duiken als snorkelen. 2 duikscholen en …
25 m Visibility
31 °C - 25 m
Steven Stegeman
27-04-2019
Genieten weer hier! Octopus, frogfish, barracuda en zeepaardjes! …
25 m Visibility
28 °C - 19 m
Popke Veenstra
14-05-2018
Veel stroming, volgens de duik gids Curacao zou het mooi zijn op …
20 m Visibility
27 °C - 30 m
Peter Gouweleeuw
27-08-2016
Leuke duik met schildpadden en inktvissen. Ook de kleine grot …
30 m Visibility
28 °C - 15 m
Danielle en Patrick
5-06-2016
Mooie duik gemaakt. Een grote groene zeester gezien en een white …
25 m Visibility
25 °C - 25 m
Dani�lle en Patrick
5-06-2016
Mooie 2de duik van de dag. Grote zee ster gezien en een …
25 m Visibility
28 °C - 15 m
Steven Stegeman
3-05-2016
Nachtduik met Relaxed Guided Dives. Murene, lionfish, grouper, …
20 m Visibility
28 °C - 13 m
Steven & Laurie
29-04-2016
Flying gunnard. Murene. Schooltjes vis. mooi koraal
25 m Visibility
28 °C - 18 m
The beach of Playa Lagun is surrounded by high cliffs. In this sheltered bay you will find turtles and occasionally even a seahorse. There is a dive school which organizes boat dives at fixed times to locations such as Mushroom Forest and Wattamula, less than 15 minutes away. However, the reef itself offers enough diving fun. Along the rocks and at the drop-off you'll see all sorts of Caribbean reef fish like angel fish, groupers, parrotfish, trumpet fish and stingrays. Also a perfect snorkeling spot.
Particulars
Enter the water from the beach and discover Playa Lagun. Check out the reef and take a look between the rocks that surround the bay. They are full of small caves where small fish and crabs hide. You can also find turtles at Playa Lagun, they nest on the beach.
Warnings
Be aware of the fishing boats that use this bay.
Read more
PLAYA LAGUN Features
Nicknames

Lagoen

Address

Lagun

Parking

Limited parking
Distance

15 m.

Suitable for

All levels, snorkeling

Permit

N.v.t. / NA

Access

Free access fee for use of beach

Facilities

Diving school, beach with sunbeds

Water

Salt

Kind of dive

Shore dive

Current

Limited

Visibility

20 - 30 m.

Average visibility

25 m.

Depth

50 m.

Bottom

coral and sand

Life

Angelfish, squid, stingray, trumpetfish, turtle, seahorse , crab, coral, grouper, parrotfish

Other recreation

Snorkeling , swimming , fishing

Emergency

912
PLAYA LAGUN Photos and Images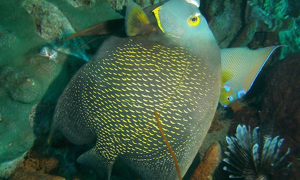 Current weather conditions
Wind :
Condition :
Temperature : °C