Volledig dode plas, veel schimmel. Zicht 0,5 mtr. Onder 5 mtr …
1 m Visibility
5 °C - 15 m
Marjolein en Mike
4-05-2020
Tussen 0-4 meter is het zicht prima en zie je veel water insecten …
3 m Visibility
15 °C - 5 m
Zicht leek goed vanaf de kant. Maar hangt overal een waas. Erg …
2 m Visibility
23 °C - 5 m
Madeleine Cuperus
14-08-2017
Geen onderwater leven . Geen begroeing. Niets te zien zwarte plekken.
4 m Visibility
12 °C - 12 m
André Rauwerda
13-08-2017
Geen onderwater leven. Dicht gooien. Mag de naam duiklocatie niet …
5 m Visibility
19 °C - 5 m
Heerlijk gedoken......maar er is niets te zien.zonde van je …
5 m Visibility
19 °C - 5 m
Annelies en Joost
24-01-2016
Koud, snel donker als je dieper gaat, 7 m is nacht, 2 …
2 m Visibility
5 °C - 5 m
Goed Zicht, erg mooi met de zon boven de plas. Helaas geen leven …
6 m Visibility
11 °C - 10 m
Rondje links om. Dieper dan 4 meter slecht zicht en kouder. 1 …
1 m Visibility
17 °C - 5 m
Maurice van Munster
6-01-2014
Prima zicht blijft een prima plas om te duiken
5 m Visibility
2 °C - 10 m
3 m Visibility
14 °C - 5 m
Troebel deze plas is slecht
2 m Visibility
6 °C - 5 m
RESSEN
Nederland, Gelderland
Ressen is beautifully hidden between the trees. It's a lake with a hard, stable sandy bottom and a varied visibility. The surrounding nature is beautiful. The underwater world is less attractive. In recent years, divers have found few plants and fish here.
Particulars
Enter Ressen in the south corner. Enter the water in the south corner of the lake. Ressen is reasonably accessible. It's a small walk from the parking lot to the entry point.
Warnings
Dive site Ressen can be very cold below the thermocline.
Read more
RESSEN Features
Nicknames

Ressen

Address

Bouwlustlaan 3, 6684 DM Ressen

Parking

Limited parking near entry points
Distance

50 m.

Suitable for

Beginners, advanced divers, night diving (remote parking), underwater photography, snorkeling (most life in shallow waters)

Permit

N.v.t. / NA

Access

Free access

Facilities

None

Water

Fresh

Kind of dive

Shore dive

Current

None

Visibility

1 - 10 m.

Average visibility

4 m.

Depth

12 m.

Bottom

zand

Life

Perch, roach

Other recreation

Fishing

Emergency

112
RESSEN Photos and Images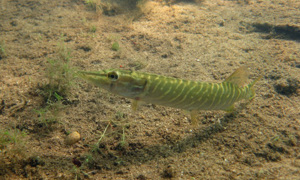 Current weather conditions
Wind :
Condition :
Temperature : °C