VAERSENBAAI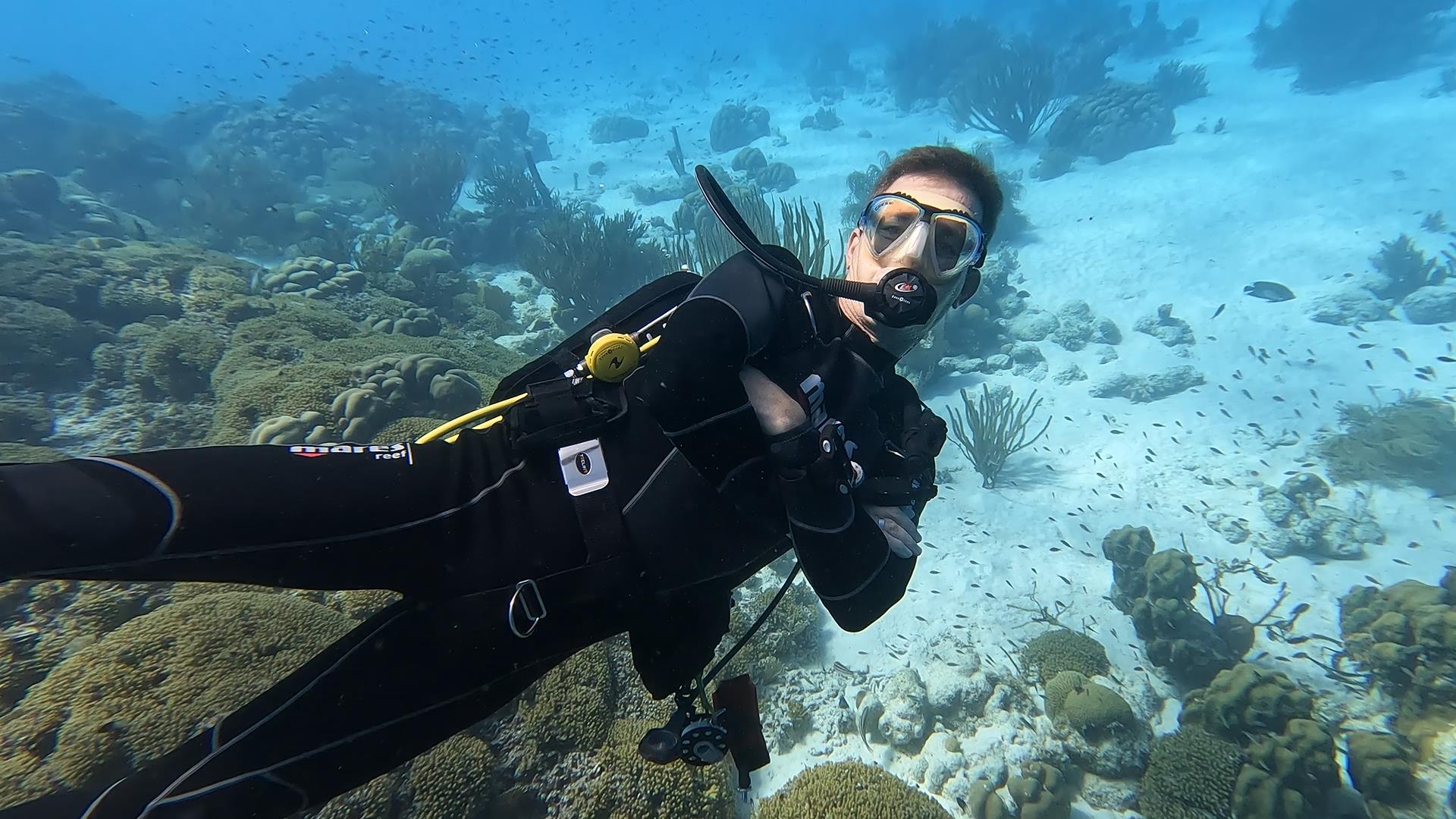 Corne Uijens
Curaçao,
8-03-22
Bij steiger naar links richting ijzerconstructie op 34 meter. Enkele Murenen pauwbot schorpioenvis en reuzen spinkrab. YouTube Corné Uijens
VAERSENBAAI
Krijn Heerschap
Curaçao,
24-01-22
VAERSENBAAI
Frank L
Curaçao,
26-11-21
Heerlijke duik vanaf het drukke strand Kokomo gemaakt. Dikke tros volgen naar ca 12 meter diepte, linksom totaan ponton.
VAERSENBAAI
Annemiek en JP
Curaçao,
25-11-19
Prima duik, wel veel sediment in het water door golfslag, verder mooie duik.
VAERSENBAAI
Joost, Gonnie en JP
Curaçao,
3-12-18
mooi strandje, gemakkelijke entry. Links vind je een afgezonken laadplatform tussen 15 en 35 m diep.
VAERSENBAAI
Joost
Curaçao,
30-11-18
Mooie duik vanaf fijn strand (kokomo beach). Linksom gedoken. Murenes, inktvis en tarpons.
VAERSENBAAI
Eerste duik
Curaçao,
17-03-18
Fijne rustige eerste duik gehad. Op 18m barracuda, lionfish en kreeft gezien.
VAERSENBAAI
Gerard Verbree
Curaçao,
5-09-17
Mooie duik op Kokomo in Curacao. Er was een inkvis, steenvis, baracuda\'s en veel meer
VAERSENBAAI
Ronald & Karin
Curaçao,
1-03-17
Mooie duikstek, vooral rechts veel koraal en spons.
VAERSENBAAI
Danielle en Patrick
Curaçao,
10-06-16
Linksaf gegaan. Op 22 meter nog een soort van paton gezien. Voor de rest een mooi rif een antal lionsfishes gezien en een enkele tarpon.
VAERSENBAAI
Hans en Pim
Curaçao,
20-08-15
Mooie duik (niet naar de carwrecks). Grote stingray, barracudas, spotten eagle ray en een octopus. De moeite waard, ook zonder de auto's.
VAERSENBAAI
Jordi
Curaçao,
13-06-15
Gedoken naar de carwrecks. Op 35.5 meter nog een auto aangetroffen in zeer goede staat! Zeker de moeite!
VAERSENBAAI
Jos en Hans
Curaçao,
8-06-15
Mooie duik. Trunk Divers zwaar min! In de ochtend 4 tanks afgesproken, zijn na de ochtendduik de tanks op en wordt pas om zes uur gevuld!!??
VAERSENBAAI
Jos en Hans
Curaçao,
5-06-15
Mooie duik gehad. Grote school blauwe doctersvissen. Murene en poetsgarnalen in de anemonen.
VAERSENBAAI
Henk Hijman
Curaçao,
12-01-13
Altijd een fijne plek om te duiken
Vaersenbaai is a nice dive site at Kokomo Beach. The drop-off starts between 9 and 12 meters and slopes sharply at an angle of 45 degrees. Varsenbaai is home to lizard fish, moray eels, parrot fish, groupers, turtles and more. The site is not far from dive site Vaersenbaai Car Wrecks. Experienced divers can reach these car wrecks from Vaersenbaai. The first wrecks will appear after a 25 minutes swim.
Particulars
At Vaersenbaai you'll find the wreck of a small steam boat at a depth of 50 meters, lying on its side.
Warnings
Vaersenbaai is suitable for divers of all leves. The wreck however lies deep and is not in reach of every diver.
Read more
VAERSENBAAI Features
Nicknames

Vaersen Bay,Kokomo Beach,Lovers Beach

Address

Curaçao

Parking

Sufficient parking
Distance

15 m.

Suitable for

Night diving, all levels

Permit

N.v.t. / NA

Access

Free access fee for use of beach

Facilities

Diving school, beach with sunbeds , kayak rental, restaurant

Water

Salt

Kind of dive

Shore dive, boat dive

Current

Limited

Visibility

20 - 30 m.

Average visibility

25 m.

Depth

50 m.

Bottom

zand en koraal

Life

Mediterranean moray or roman eel, parrotfish, flatworm, lizard fish

Other recreation

Boating, yachting, swimming , snorkeling

Emergency

912
Current weather conditions
Wind :
Condition :
Temperature : °C