ALEX'S CAVE
Jolanda en Monique
Malta,
13-09-21
Leuke duik door een tunnel en daarna de grot in. Redelijk wat vis en mooie kleuren op de wanden van de grot.
ALEX'S CAVE
Bregje
Malta,
28-08-21
ALEX'S CAVE
RvA
Malta,
23-10-16
Relaxte duik. Een paar octopuses gezien.
Alex's Cave at Comino is situated within the largest islet to the south of the blue lagoon and provides an ideal dive for those who enjoy cave diving, providing beautiful views of the underwater world. This spectacular cave dive at starts in the beautiful turquoise blue waters with white sandy bottoms at Crystal Lagoon at the west coast of Comino and is suitable for all levels of divers. It has a very nice swim through and superb 40 meter long internal cave. Lots of marine life can be found under the boulders in the entrance to the cave and on the sandy plains.
Particulars
You may also see the steep drop-off at the left outside the tunnel with a large arch.
Warnings
Bring a torch otherwise you will miss out on all the things in the cave.
Read more
ALEX'S CAVE Features
Nicknames

Crystal Lagoon, Alexander's Cave, Champagne Cave, Tony's Cave

Address

N.v.t. N/A

Parking

At boat charter
Distance

30 min.

Suitable for

All levels, underwater photography

Permit

N.v.t.

Access

Free access

Facilities

None

Water

Salt

Tide

N.v.t.

Kind of dive

Boat dive, reef dive , cavern dive, underwater naturalist

Current

Limited, none

Visibility

20-40 m.

Average visibility

25 m.

Depth

14 m.

Bottom

rotsblokken,zand en stenen

Life

Dusky grouper or merou, stingray, conger eel or conger, cuttlefish, lizard fish, common hermit crab, amberjack, lobster, moray, nudibranch, common octopus, common prawn, flying gurnard, marbled electric ray, cleaver wrasse or pearly razor fish

Other recreation

Snorkeling , swimming , boating, yachting

Emergency

112
ALEX'S CAVE Photos and Images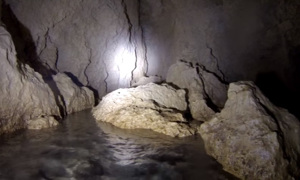 ALEX'S CAVE Log Report Images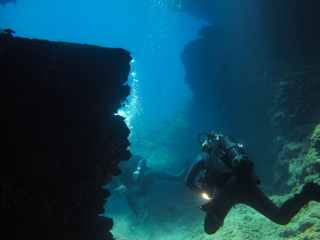 Current weather conditions
Wind :
Condition :
Temperature : °C