BROUWERSSLUIS
W&J&M
Nederland, Zeeland
9-10-21
Bijna de gehele duik lastiggevallen door een zeehond. Deze werd steeds brutaler. Verder veel botervisjes, NZ krab. Niet heel bijzondere duik
BROUWERSSLUIS
P&D
Nederland, Zeeland
14-09-20
Onvoorstelbaar veel tegen stroming zodanig dat we gedtoot zijn na 23minuten. Wel mooie noordzeekrab en levende schaar int zand.
BROUWERSSLUIS
Leon & Diana
Nederland, Zeeland
16-08-20
Zeer sterke stroming, <0,50 m zicht Duik na 5 min afgebroken, was niet verantwoord.
BROUWERSSLUIS
Fred, Jan, Adrie & Cindy
Nederland, Zeeland
19-07-20
Hw, via strand te water. Noordzeekrabben, makreel, pijlinktvissen, zeedahlia, anemonenveld.
BROUWERSSLUIS
Gerard meij
Nederland, Zeeland
4-06-19
Kreeften. Krabben zeedruif spin krab lastige instap bij laagwater blijf uit de vaargeul veel herrie onderwater van passerende schepen
BROUWERSSLUIS
Annelies en Joost - Heiduikers
Nederland, Zeeland
23-02-19
Duikstek Schelpdierbank. Erg slecht zich bij ingaan op LW. 30 cm. Bij pier beter. Grote zeesterren en Dahlia. Flinke stroming opkomend tij.
BROUWERSSLUIS
Eduard Bello + Marion
Nederland, Zeeland
13-10-18
LW. Brouwersdam/blokkendam. Staat niet in Duikergids! Scheermessen, prachtige dahlia\'s, botervisjes, zeedonderpad, wieren/sponsen en een bot
BROUWERSSLUIS
Dingeman
Nederland, Zeeland
14-03-18
Heerlijk duikje prima zicht watertemp 6 gr enkele zeekrabben en bot gezien en gebruikelijke leven komt langzaam op gang
BROUWERSSLUIS
Didi en peter
Nederland, Zeeland
19-06-17
Slecht zicht 30cm enkel noordzeekrabben. Na stroming mooi.uitgekomen maar weinig leven.Helaas.
BROUWERSSLUIS
arno owsvd
Nederland, Zeeland
2-04-17
leuke duik gemaakt met c k
BROUWERSSLUIS
Edwin Westenberg
Nederland, Zeeland
31-10-16
Wrattig tipjes, dahlias, botervissen, veel kleine zeesterren, zeehond (onderwater)
BROUWERSSLUIS
Niek, Pieter Jan, Jan Wicher
Nederland, Zeeland
25-09-16
Zicht 1 tot 2m, bodem bedekt met duizenden zeesterren, enkele donderkoppen heel krab.
BROUWERSSLUIS
DidiHanssens petervanderborght
Nederland, Zeeland
13-09-16
Prachtige Noordzee duij 4m zicht en erg veel leven.massa zeesterren groot en mini,zeehond op 5m.school makreel,kabeljouw en noordzeekrabben.
BROUWERSSLUIS
Edwin Westenberg
Nederland, Zeeland
12-06-15
Wareroppervlak een spiegelttje, maar helaas 0 zicht. Wel een aantal zeehonden aan de oppervlakte.
BROUWERSSLUIS
Nederland, Zeeland
Brouwerssluis is a dive site which needs some preperation. Diving is only possible at high tide and with little wind. Visit this dive site only under these conditions! Dahlia anemones thrive at Brouwerssluis. You've never seen so many in such a wide variation.
Particulars
Enter Brouwerssluis from the beach, right before the parking lot. Now dive north and return along the end of the pier. Brouwerssluis isn't officially located at Lake Grevelingen, but at the Noordzeestrand (beach of the North Sea).
Warnings
Brouwerssluis is located near professional fishing grounds. Keep away from the gear and beware of old fishing lines and lures. Brouwerssluis lies next to a lock. Stay away from this location to avoid strong currents.
Read more
BROUWERSSLUIS Features
Nicknames

Spuisluis,Noordzeestrand

Address

Grevelingenlaan, 4323 Ellemeet, Noordzeestrand

Parking

Sufficient parking near entry point
Distance

10 m.

Suitable for

All levels, night diving

Permit

N.v.t / NA

Access

Free access

Facilities

None

Water

Salt

Tide

N.v.t.

Kind of dive

Shore dive

Current

Limited

Visibility

0 - 4 m.

Average visibility

2 m.

Depth

6 m.

Bottom

zand

Life

Goby, north sea crab, flatfish, catfish, snail, sludge anemone, sea bass, dahlia anemone, seal

Other recreation

Fishing

Emergency

112
BROUWERSSLUIS Photos and Images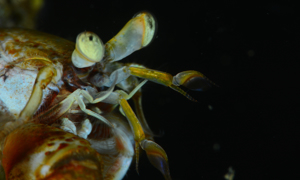 Current weather conditions
Wind :
Condition :
Temperature : °C