Ron Larissa Martin
15-07-2021
Slecht zicht <1m wel veel baars
1 m Visibility
19 °C - 5 m
Harry,lindsay,vince en maurice
13-06-2021
Niet erg veel leven,wat kleine scholen baars en voorn. Lindsay …
2 m Visibility
18 °C - 5 m
Een ijsduik gemaakt was mooi Zicht was zeer slecht
1 m Visibility
3 °C - 5 m
Franka & Astrid
16-08-2020
Tot 5m redelijk zicht en aangename temperatuur. Veel klein spul, …
3 m Visibility
21 °C - 5 m
Harry Lindsay,Vince en Maurice
21-06-2020
Niet al te best zicht. Wel leuk Veel klein spul en een.mooie …
2 m Visibility
18 °C - 10 m
Harry Lindsay en vince
1-06-2020
Veel macrospul. En 11 karpers
4 m Visibility
16 °C - 10 m
Redelijk zicht maar geen leven.
3 m Visibility
12 °C - 10 m
Weinig leven en geen zicht onder de 5 mtr
6 m Visibility
18 °C - 5 m
Zicht matig, doch variabele stukken beter. Nauwelijks …
3 m Visibility
18 °C - 1 m
Enorm slecht zicht,geen leven waargenomen. Geen plannen voor een herhaling
1 m Visibility
10 °C - 10 m
Erwin Van Lohuizen
18-07-2019
Veel alg en slecht zicht. Weinig vis gezien
2 m Visibility
19 °C - 5 m
Jan Jee en dolle Dries
10-06-2019
Tja de algebloei was duidelijk begonnen. Zicht matig dus. Op …
3 m Visibility
14 °C - 5 m
Zicht zeer slecht. Net of je door een sneeuwstorm heen kijkt
1 m Visibility
18 °C - 5 m
Was een mooie duik. Op diepte was het zicht niet zo goed maar aan …
1 m Visibility
20 °C - 10 m
Op 3m sterke thermocline; daaronder koud, slecht zicht en geen …
2 m Visibility
20 °C - 5 m
DE MARKTE
Nederland, Overijssel
De Markte is a beautiful dive site, which can be explored with only one dive tank. The beautiful reeds and tree root formations along the shores are favorite spots for divers. Most of the fish in de Markte can be seen at shallow depths. De Markte is also a great night dive and snorkel site.
Particulars
De Markte offers much to explore. Sewer pipes, concrete debris, overhanging trees and root formations are habitat for eels, perch, pike, carp, frogs and much more.
Warnings
Beware of anglers, fishing lines and construction debris.
Read more
DE MARKTE Features
Address

De Markte, 8028 Zwolle

Parking

Free parking at waterfront

Distance

20 m.
Suitable for

Beginners, advanced divers

Permit

N.v.t. / NA

Access

Free access

Facilities

Small bench

Water

Fresh

Tide

N.v.t.

Kind of dive

Shore dive, snorkeling

Current

None

Visibility

1 - 6 m.

Average visibility

3 m.

Depth

13 m.

Bottom

zand en stenen

Life

Perch, zebra mussel, carp, frog, eel, pike, tench

Other recreation

Fishing

Emergency

112
DE MARKTE Photos and Images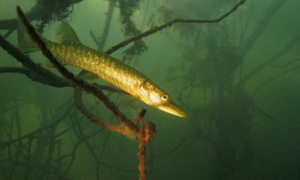 Current weather conditions
Wind :
Condition :
Temperature : °C