Nederland, Utrecht
EILAND 1
Yvon, William en Dick
31-5-20
Grote snoek, marmergrondel en kleine modderkruiper. Met staalborstel trap ontdaan van algenaanslag!
4 m Visibility
13 °C - m
Yvon, William en Dick
24-5-20
Marmergrondel, pontische stroomgrondel, kleine modderkruiper en een mooie snoek
3 m Visibility
14 °C - m
Henk B. en Eddy R.
24-5-20
Mooie snoek op 12 m. bij steile wand. OWSV Aqua-Holic.
7 m Visibility
8 °C - m
Door winderig weer veel golfslag maar onder 5 meter goed zicht. Weinig leven verder
10 m Visibility
10 °C - m
20.00 uur te water met Frans. Giga-snoek op 12m. in een nis van de steile wand. Verder …
15 m Visibility
8 °C - m
Susan, René & Petra naar dropoff; wisselend zicht; stoffig ondiep en helder op 15 mtr. …
10 m Visibility
8 °C - m
Nieuwjaarsduik Aqua-Holic
5-1-20
Prachtige nieuwjaarsduik met Henk Leo Frans Johan Linda. Mooi zicht. Wat kreeftjes, geen vis.
15 m Visibility
5 °C - m
10 m Visibility
4 °C - m
Linda Aqua-Holic Amersfoort
18-10-19
Mooi gedoken, zicht goed. Paling in de wand en school baarsjes.
7 m Visibility
13 °C - m
Verrückte Duikers
30-8-19
Gezegend met de liefste buddies Stephan & Edith maakte Petra haar 100ste duik dit jaar & …
8 m Visibility
14 °C - m
Rondje tot 13.7 mtr. Temp daar 12 graden. Aan opp. 21 graden. Goed zicht zowel boven als …
10 m Visibility
12 °C - m
Twee volwassen snoeken en een "kale" wolhandkrab. Vond het schijnbaar te warm voor z\'n …
3 m Visibility
16 °C - m
Linda - Aqua-Holic Amersfoort
30-7-19
Mooi gedoken. Stukje lopen was bloedheet maar onder water op diepte lekker fris. Bovenin …
10 m Visibility
11 °C - m
Daniel, Franka, Simon en Nick
23-7-19
Ivm drukte eiland 4 uitgeweken. Kraakhelder langs de steile wand. 3 grote snoeken, scholen …
12 m Visibility
12 °C - m
Vanaf steiger linksaf gegaan. 1 grote snoekbaars, 2 grote snoeken en heel veel kreeftjes. …
6 m Visibility
18 °C - m
EILAND 1
Nederland, Utrecht
Eiland 1 is accessible by boat or from the shore. The underwater nature is beautiful. Exuberant vegetation, crystal clear water and an abundance of fish. Objects are scarce, but Eiland 1 does have the necessary facilities, such as changing rooms and bathrooms. In addition, it is an ideal location to visit with the family. You can swim and sunbathe.
Particulars
Eiland 1 is noted for its beautiful underwater scenery, full of lush vegetation and a great amount of fish.
Warnings
Dive here always with a buoy. Be aware of the boats.
Read more
EILAND 1 Features
Nicknames

Zandeiland 1,Vinkeveen Eiland 1,Winkelpolder,Bootduiken Vinkeveen

Address

Zandeiland 1 Molenkade 30, 3645 AX Vinkeveen

Parking

Sufficient free parking
Distance

700 m.

Suitable for

Beginners, experienced divers, night diving, underwater photography

Permit

N.v.t.

Facilities

Shower, changing rooms, jetty, restaurant, toilet, small stairs

Kind of dive

Shore dive, boat dive

Current

None

Visibility

4 - 10 m.

Average visibility

6 m.

Depth

30 m.

Bottom

zand

Life

Perch, common roach, bream, carp, eel, ruffe, common rudd, bullhead, pike, pike-perch, tench, cray fish, freshwater mussel

Other recreation

Beach recreation, ., sunbathing, swimming

Emergency

112
EILAND 1 Photos and Images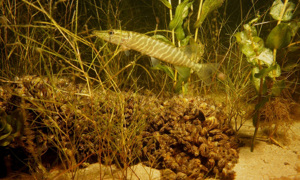 EILAND 1 Log Report Images
Current weather conditions
Wind :
Condition :
Temperature : °C