ZUIDBOUT
De Johan
Nederland, Zeeland
30-06-23
HW duik. Veel kreeftjes en zeedonderpad, wat stroming op kop vd dam op 40m. Matig zicht.
ZUIDBOUT
David van den Heuvel
Nederland, Zeeland
11-06-23
2e stromingsduik voor de 2* opleiding
ZUIDBOUT
Duikersgids Support
Nederland, Zeeland
7-03-23
Dichtbij parkeren en het zicht kan soms erg meevallen. Veel brokkelsterren. Volg onze logberichten!
ZUIDBOUT
Duiker
Nederland, Zeeland
16-10-22
Moeilijk te water gaan bij laagwater. Touw is minstens nodig. Bodme bezaaid met brokkelsterren.
ZUIDBOUT
Lennard & Jeroen
Nederland, Zeeland
19-08-22
HW: goed zicht, steenbolken, veel baby sepia's, zeedonderpadden, platvisjes, hooiwagenkrabben en het gebruikelijke onderwaterleven.
ZUIDBOUT
Duikbuddy Dordrecht
Nederland, Zeeland
20-06-21
Na LW gedoken, vanaf kant i.v.m. vele fuiken op duikstek. Verschillende wieren, Brokkel-, Slangsterren, Gr. Wierslakken en Hermietkreeftjes.
ZUIDBOUT
Scuba World Arnhem
Nederland, Zeeland
19-06-21
Ondiep was het erg goed zicht maar dieper werd het zicht slecht. Sepiola gespot. Voor herhaling vatbaar.
ZUIDBOUT
Roland
Nederland, Zeeland
24-04-21
Eerste duik voor mijn hier. Fraaie stek! Veel leven. Stroming minder dan verwacht (doodtij).
ZUIDBOUT
Tessa C
Nederland, Zeeland
16-10-20
Sepia's, zeedonderpad. GoPro Hero 8 en Big Blue lamp verloren. Eeuwige dank aan de eerlijke vinder: tessacornelissen@hotmail.com)
ZUIDBOUT
Olav
Nederland, Zeeland
13-08-20
Donderpadden, pauwkokerwormen,noordzeekrab,grote tong,harlekijnslak,
ZUIDBOUT
Kurt en stefan
Nederland, Zeeland
27-06-20
Diepe duik, met heel slecht zicht. Klassieke leven tegengekomen
ZUIDBOUT
Zuitersbout
Nederland, Zeeland
14-06-20
trotz schlechter Sicht schöner Platz, entspanntes Tauchen, kaum Strömung
ZUIDBOUT
Ar en Eef
Nederland, Zeeland
4-05-20
Zeer slecht zicht, duik afgebroken.
ZUIDBOUT
Ron
Nederland, Zeeland
24-11-19
Teveel stroming en slecht zicht
ZUIDBOUT
Leon en Diana
Nederland, Zeeland
31-08-19
Zeer slecht zicht. Terug na 5 m toen redelijk. Platvis, donderpad, spinkrab, zeester, brokkelster, anemoon, anjelier
ZUIDBOUT

29
Nederland, Zeeland
Zuidbout is a pier which runs far into the Oosterschelde. It's a popular dive site with a variety of marine life, such as the rare wakameweed and occasionally, the beautiful northern red anemone. Equally interesting at Zuidbout are the remains of the old dikes, the beautifully vegetated basalt blocks and an unrecognizable, but beautifully overgrown wreck.
Particulars
Enter the water on the eastside of the pier. After about 10 meters, the bottom quickly slopes down. Close to the wreck big lobsters, sea squirts and sponges can be seen.
Warnings
Zuidbout is an official kitesurfing location from 1 October to 30 April. First check if there are no kitesurfers active. Be aware of fishing lines. Slippery entry at low tide. Visibility and currents may change at the end of the pier.
Read more
ZUIDBOUT Features
Nicknames

Zuidbout

Address

Weg van de Buitenlandse Pers, Ouwerkerk

Parking

Sufficient parking
Distance

400 m.

Suitable for

Groups, night diving, experienced divers

Permit

N.v.t. / NA

Access

Free access

Facilities

Rescue team , toilet

Water

Salt

Tide

LW en HW

Kind of dive

Shore dive

Current

Strong

Visibility

1 - 5 m.

Average visibility

3 m.

Depth

40 m.

Bottom

zand

Life

Flounder, butterfish, goby, flathead grey mullet or striped mullet, common hermit crab, squid, cod, wakame, dahlia anemone, bull-head or shorthorn sculpin, eelpout, plaice, green and red weed , lobster

Other recreation

Fishing , sandy beach

Emergency

112
ZUIDBOUT Log Report Images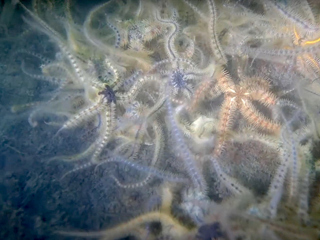 Current weather conditions
Wind :
Condition :
Temperature : °C