Johan en stefan
19-12-2021
Na de stevige wandeling een rustige duik. Brokkelsterren, kreeft, …
3 m Visibility
6 °C - 20 m
Harald den Houter
5-12-2021
Mooie duik gemaakt op Oostnol. Wel een enorm end lopen. Goed …
1 m Visibility
13 °C - 20 m
Zeer goed zicht en weinig stroming. Veel NZ-kreeften, school …
4 m Visibility
12 °C - 25 m
Eduard Bello + Glenn + Petra
13-08-2020
Bootduiken met de Tertius. Mooie lokatie ten oosten van steiger. …
4 m Visibility
22 °C - 20 m
3 m Visibility
20 °C - 30 m
Grote kreeften, noordzeekrabben, bottervisjes, zeedonderpadden (groot)
2 m Visibility
20 °C - 25 m
Volle parkeerplaats, beperkt zicht onder water. Galatheakreeft, …
1 m Visibility
20 °C - 25 m
Duik op HW kentering, zicht wisselend, mogelijk door mosselkotter …
3 m Visibility
20 °C - 25 m
Grote zeedonderpad, veel botervis. Rustige mooie duik, zicht …
3 m Visibility
16 °C - 15 m
Vele wierslakken, paar grote zeenaalden, steurgarnaal. Weinig tot …
1 m Visibility
11 °C - 15 m
Courant fort, et lame de fond, impressionnant, mise l eau …
6 m Visibility
10 °C - 30 m
Grote kreeften, grote noordzeekrabben, gebruikelijk leven. …
3 m Visibility
9 °C - 35 m
Grote kreeften, grote noordzeekrabben, gebruikelijk leven. …
3 m Visibility
9 °C - 35 m
Heerlijke duik. Veel kleur en veel klein leven.
5 m Visibility
15 °C - 25 m
STAVENISSE OOSTNOL

76
Nederland, Zeeland
Stavenisse Oostnol is a nice dive site where in spring lumpfish can be seen. Descend along the beautifully vegetated pier. You'll end up at a sandy bottom which is overgrown with sponges, anemones and carnations. Dive at low tide.
Particulars
Follow the bicycle lane to the top of the dike, after parking your car. Then enter the water at the pier. Beware, the rocks can be slippery.
Warnings
Boating channel, don't make free ascents. No diving with north to northwestern winds stronger than wind force 4. Entry point can be slippery. Bring a rope to enter the water safely.
Read more
STAVENISSE OOSTNOL Features
Nicknames

Boei Keeten 17, De Groene Ton, Den Nol, Keetenweg, Het Dammetje.

Address

Kruising Oudelandseweg / Keetenweg, Stavenisse

Parking

Sufficient parking
Distance

350 m. lopen.

Suitable for

Experienced divers

Permit

N.v.t.

Access

Free access

Facilities

Mobile toilet (april - oktober), picknick table

Water

Salt

Tide

LW

Kind of dive

Shore dive

Current

Very strong

Visibility

1 - 4 meter.

Average visibility

2 m.

Depth

42 m

Bottom

stenen,zand

Life

Anemone, plumose anemone, goby, crab, lobster

Other recreation

Biking, boating, yachting, fishing , rambling

Emergency

112
STAVENISSE OOSTNOL Log Report Images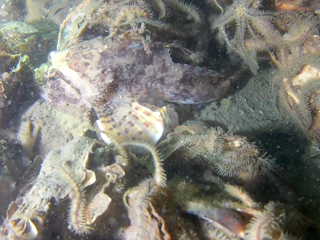 Current weather conditions
Wind :
Condition :
Temperature : °C