BOKA SPELONK
Mike Cupedo
Bonaire,
3-06-23
Samen met Bas Tol gedoken op Boka Spelonk. Een dikke aanrader als je op Bonaire bent! Super mooi tof onderwater en een Lobster Jam gezien!
BOKA SPELONK
Boka Spelonk middagduik
Bonaire,
10-04-20
Spannende instap maar de moeite waard, in de grot een mooie goliath grouper, kreeften, eagle ray, octopus, grote kreeften, bas diving top!!!
BOKA SPELONK
Menno en Ilja
Bonaire,
7-06-19
Heel ander koraal aan de oostkant. Ontzettend mooi! In de verte een stingray gezien. Als toppunt een rustende verpleegsterhaai gezien!🦈
BOKA SPELONK
Erik Mellaart
Bonaire,
20-05-19
Gezien: Gray Angelfish, Great Barracuda, Parrotfish, Trumpetfish, Triggerfish, Stingray, enz. Beslist de moeite waard geweest!
BOKA SPELONK
Erik Mellaart
Bonaire,
13-12-18
Bijzondere ervaring! Zeer veel oversized kreeften en andere mooie vissen. Entry - Exit is alleen al een ervaring apart...
BOKA SPELONK
BAS Diving
Bonaire,
21-06-18
Manta Ray, bunches of Lobsters, a school of nesting Ocean Trigger fish, Stingrays, Mutton Hamlet, Queen Trigger,3 large Midnight Parrot fish
Boka Spelonk is 'the never ending dive'. There is so much to see here that you'll always lack time. It is a dive site with a steep drop-off, giant corals, beautiful colors, a large biodiversity and a cave where you can swim into. And then there are the many crevices where you will discover a different habitat every time you shine into them with your lamp. The cave is situated at 18 meter, with a beautiful coral garden just in front of it. The cave is quite large, in the inside you'll come across everything from green moray eels and lobsters to even nurse sharks. Bring a lamp and let the colors underneath the overhangs, holes and burrows come to life. You'll see the most fantastic colors of sponges and corals and even the bare rock has the most beautiful shades of red, pink and purple. Truely amazing! Make 'the never ending dive' at Boka Spelonk. Experienced guide recommended.
Particulars
At Boka Spelonk, it's best to enter the water from the shore. You could also make a giant leap from a height of 3.5 meter. The journey to the place where you can jump is covered with a lot of uneven and sharp rocks. Please contact your guide. The drop off starts very close to the coast and descends steeply to a large sandy plateau at 30 meter. The corals grows in formations at the foot of the drop-off, between 18 and 30 meter. Some corals are gigantic in size. They generally grow flat to absorb the most sunlight.
Warnings
Always dive here with a local guide. Diving is only possible under calm weather conditions. Nitrox recommended. You can make a giant leap, but the road to the place where you have to jump is not without hazards.
Read more
BOKA SPELONK Features
Nicknames

Boka Spelonk

Address

Bonaire

Parking

Sufficient parking
Distance

50 m.

Suitable for

Experienced divers with guide

Permit

Bonaire Nature Tag

Access

Nature fee

Facilities

Boat dive facilities

Water

Salt

Kind of dive

Shore dive, boat dive

Current

Strong

Visibility

20 - 30 m.

Average visibility

25 m.

Depth

30 m.

Bottom

zand en koraal

Life

Green moray, lobster, nurse shark, parrotfish, thornback ray

Other recreation

None

Emergency

912
BOKA SPELONK Photos and Images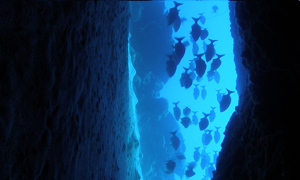 BOKA SPELONK Log Report Images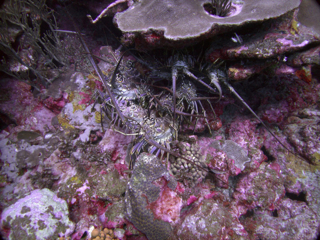 BOKA SPELONK Videos
Current weather conditions
Wind :
Condition :
Temperature : °C