LA MACHACA
RMB
Bonaire,
29-01-23
Orientatieduik gedaan op het huisrif van Captain Don. Mooi rif met veel kleur en vis diversiteit. Je kan het touw volgen vanuit de pier.
LA MACHACA
Peter en Esther
Bonaire,
17-01-22
Ochtend onderkant rif op 30-35m hangen 8 Tarpons. Ook nachtduik gemaakt komen ze op 7-10m rondom je lampen zwemmen prachtig!
LA MACHACA
Willy, Debbie, Alex en Gerty
Bonaire,
19-09-20
Even bij het wrakje wezen kijken.
LA MACHACA
Remco Dieterman/Wim-Frank Kolk
Bonaire,
10-02-19
S'middags een relax duik gemaakt op deze mooie duikspot veel leven onderwater en tarpons gezien. Mooi klein wrakje nog gezien. Echt super.
LA MACHACA
Nicoline en Bertus
Bonaire,
18-01-19
Vandaag vlak bij het wrakje zeepaardje gespot. Prachtig. In het wrak een joekel van een murene. Ongeveer 3 meter lang.
LA MACHACA
Donpi
Bonaire,
9-03-18
Beide wrakjes bezocht. Het minst diep gelegen wrakje bevat veel leven. Ideaal voor het opmeten en observeren bij een spec. wrak.
LA MACHACA
Donpi
Bonaire,
9-03-18
Plaats om diepduik te maken. Op 42 m witte zandbodem en het licht is nog zeer voldoende aanwezig. Weinig leven maar perfect voor spec deep
LA MACHACA
Donpi
Bonaire,
8-03-18
Leuke ontspannen duik mede door de eenvoudige in- en uitstap alsook door het touw dat tot op circa 20m je geleider terug is. Cubera snapper
LA MACHACA
Donpi
Bonaire,
4-03-18
Instap door sprong van het ponton of via trapje. Prima locatie voor nachtduik vergezeld door tarpons. Garnalen, krabben en langoustines
LA MACHACA
Jacky
Bonaire,
8-03-18
Commandosprong van stijger.Bathfish,grote cuberasnapper,mooi koraal,cowfish .Geen stroming
LA MACHACA
Dirk Poschet
Bonaire,
9-03-18
Stingray onder de steiger bij uitstap, nachtduik
LA MACHACA
Dirk Poschet
Bonaire,
9-03-18
Diepduik, gemakkelijke afdaling langs het touw, steiger met dubbele trap, koraal mooi, jagende tarpons
LA MACHACA
Karolien
Bonaire,
8-03-18
Veel vis. Zichtbaarheid was minder naar het einde van de duik.
LA MACHACA
Karolien
Bonaire,
4-03-18
Mooie nachtduik, makkelijke instap. Veel jagende tarpons.
LA MACHACA
Joost
Bonaire,
4-03-18
Gemakkelijke entry, ideaal voor nachtduik. Mooie duik. Veel tampons die jaagden in onze duiklampen.
Wreck La Machaca lies in the house reef of Captain Don's Habitat. It's not a public dive site. Permission from the resort is required. The 14 meter trawler was purposely sunk as a dive wreck. La Machaca lies upside down and is quite overgrown with weeds. You'll find it 30 meters from shore, at a depth of 14 meters. La Machaca is an old film location where in 1979 the Dutch youth series, 'Duel in de diepte', has been shot.
Particulars
Enter La Machaca from the pier after permission is granted. La Machaca is a 14-meter fishing boat. It's not a real wreck dive. It's more like a fun dive target, especially for beginners.
Warnings
La Machaca is not a public dive site. Parking lot and access to the pier are private property. You need permission to dive here.
Read more
LA MACHACA Features
Nicknames

Captain Don's

Address

103 Kaya Gob. N. Debrot, Kralendijk

Parking

Sufficient parking
Distance

40 m.

Suitable for

All levels, snorkelers

Permit

Bonaire Nature Tag

Access

Nature fee

Facilities

Diving school, paid facilities captain don's habitat , jetty

Water

Salt

Kind of dive

Night dive, shore dive, boat dive, snorkeling

Current

Limited

Visibility

20 - 40 m.

Average visibility

30 m.

Depth

45 m.

Bottom

zand

Life

Common octopus, grouper, tarpon, sand eel or sandeel

Other recreation

Captain don's habitat

Emergency

912
LA MACHACA Photos and Images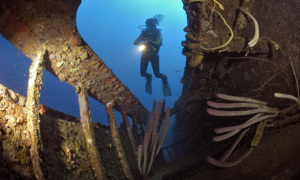 Current weather conditions
Wind :
Condition :
Temperature : °C