Willy, Debbie, Alex en Gerty
19-9-20
Even bij het wrakje wezen kijken.
30 m Visibility
30 °C - 25 m
Remco Dieterman/Wim-Frank Kolk
10-2-19
S'middags een relax duik gemaakt op deze mooie duikspot veel leven onderwater en tarpons …
20 m Visibility
26 °C - 20 m
Nicoline en Bertus
18-1-19
Vandaag vlak bij het wrakje zeepaardje gespot. Prachtig. In het wrak een joekel van een …
The least deeply located wreckage contains a lot of life, ideal for measuring and …
Location for deep dive. 42 m white sand soil and light is still very abundant, little life …
Stingray under the jetty for excursions, night diving
15 m Visibility
25 °C - 35 m
Deep dive, easy descent along the rope, double-stair jetty, coral beautiful, hunting tarpons
20 m Visibility
25 °C - 40 m
Nice relaxing dive also by the easy entry and exit and by the rope that to about 20m your …
20 m Visibility
26 °C - 15 m
Command jump of riser.Bathfish, big cuberasnapper, beautiful coral, cowfish .No current
20 m Visibility
26 °C - 15 m
Visibility was less towards the end of the dive.
15 m Visibility
27 °C - 15 m
Entry by jumping from the pontoon or via stairs, perfect location for night dive …
10 m Visibility
26 °C - 16 m
Beautiful night dive, easy entry, lots of chasing tarpons.
30 m Visibility
26 °C - 15 m
Easy entry, ideal for night diving, many of the tampons hunted in our dive lights.
30 m Visibility
26 °C - 20 m
Night diving at Capt. Don. Vis the rope to the wall, no current so you can enjoy the …
50 m Visibility
27 °C - 20 m
Against the light currents in swimming to the south, accompanied by a large Juffer, with …
20 m Visibility
27 °C - 15 m
Wreck La Machaca lies on the house reef of Captain Don's Habitat. The 14 meter trawler was purposely sunk as a dive wreck. La Machaca lies upside down and is quite overgrown with weeds. You'll find it 30 meters from shore, at a depth of 14 meters. La Machaca is an old film location. In 1979 the Dutch movie, 'Duel in de diepte', with Rutger Hauer was filmed here. La Machaca is also great for snorkeling.
Particulars
Pay the fee at Captain Don's Habitat for the use of their facilities. The staff will tell you where to park your car and enter the water. La Machata is not a real wreck dive but it's nice to see. A rope leads from the jetty to the reef wall and to the wreck. Close to La Machaca lies another wreck, the Venezuelan tug boat Hesper. It's a small, almost completely deteriorated wreck.
Read more
LA MACHACA Features
Nicknames

Captain Don's

Address

103 Kaya Gob. N. Debrot, Kralendijk

Parking

Sufficient parking
Distance

40 m.

Suitable for

All levels

Permit

Bonaire Nature Tag

Access

Nature fee

Facilities

Diving school, paid facilities captain don's habitat , jetty

Water

Salt

Kind of dive

Night dive, shore dive, boat dive, snorkeling

Current

Limited

Visibility

20 - 40 m.

Average visibility

30 m.

Depth

45 m.

Bottom

zand

Life

Common octopus, grouper, tarpon, sand eel or sandeel

Other recreation

Captain don's habitat

Emergency

912
LA MACHACA Photos and Images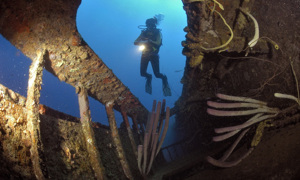 Current weather conditions
Wind :
Condition :
Temperature : °C