FRONT PORCH
Linda & Steven
Bonaire,
1-11-21
Check dive aan Wannedive! 👌
FRONT PORCH
Gijs en Femke
Bonaire,
18-05-20
Ondertussen duik nummer 10 op ons favoriete rif. Makkelijke instap en altijd wat moois te zien. Geen stroming deze keer, simpele duik!
FRONT PORCH
Linda & Steven
Bonaire,
25-05-19
Linker kant wrakje gaan opzoeken.
FRONT PORCH
Linda & Steven
Bonaire,
23-05-19
Nachtduik vergezeld met tarpons. Langoust.
FRONT PORCH
Linda & Steven
Bonaire,
20-05-19
FRONT PORCH
Front porch
Bonaire,
12-01-19
FRONT PORCH
John Bloem
Bonaire,
12-12-18
Hier 5 duiken gedaan op 10 tot 18 meter, veel kleurrijk koraal noord richting. Octopus, zeepaardje, stonevis, slangen, murene, schildpad.!
FRONT PORCH
Jack Meerburg
Bonaire,
8-08-18
Heerlijke relaxte duik! Wel druk onderwater met curcisten
FRONT PORCH
Kees mutsaers
Bonaire,
27-01-18
FRONT PORCH
Jan Dirk Vugts
Bonaire,
27-01-18
Clean up dive met Dive friends Bonaire. Tijdens onze vakantietrip met een groep van Herma Lieven
FRONT PORCH
Clean up dive
Bonaire,
16-02-18
Hier met 16 andere duikers mee gedaan aan de Dive friends Bonaire Clean up Dive! super leuk en een grote vrachtwagen band boven gehaald
FRONT PORCH
Huub van der Ligt
Bonaire,
27-01-18
Clean up dive Dive Friends Bonaire met team Herman Lieven tijdens vakantietripje
FRONT PORCH
Clean up dive DFB
Bonaire,
27-01-18
Leuke clean up dive gedaan met Dive Friends Bonaire! Wij, 17personen van Herman Lieven,met als hoogte punt een schone vrachtwagenband :-)
FRONT PORCH
Emma
Bonaire,
19-01-18
Niet de beste plek voor mooi koraal maar een heerlijk zoekplaatje voor macro leven.
FRONT PORCH
GerardV2
Bonaire,
6-05-16
Front porch is not know for its coral reefs but for its scrap! The bottom is littered with steel pipes, wreck parts and old machinery. Strange enough, it attracts a wide variety of marine life: Scorpion fish, tube worms, soap fish, large groupers, moray eels and much more. There's a wreck here as well. It's a ten-meter tugboat at 28 meters, right in front of the beach. The tug lies upside down with the bow northwards.
Particulars
Enter Front Porch from the beach, right where a steel pipe sticks out of the water. Underwater, the pipe is attached to a big concrete block. The site is shallow near the shore. From Front Porch the dive sites Bari Reef and Eden Beach Resort can be reached.
Warnings
Front Porch is full of debris. Be aware of sharp scrap parts. Watch out for pleasure boats. Strong currents!
Read more
FRONT PORCH Features
Nicknames

Front Porch

Address

Eden Beach Resort

Parking

Sufficient parking
Distance

40 m.

Suitable for

All levels

Permit

Bonaire Nature Tag

Access

Nature fee, free access

Facilities

Dive center

Water

Salt

Kind of dive

Shore dive

Current

Medium, strong

Visibility

20 - 40 m.

Average visibility

30 m.

Depth

40 m.

Bottom

zand en schroot

Life

Lionfish, grouper

Other recreation

Boating, yachting

Emergency

912
FRONT PORCH Log Report Images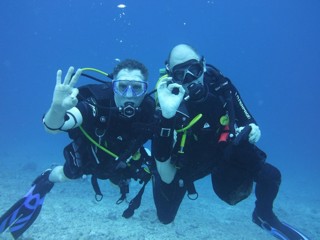 Current weather conditions
Wind :
Condition :
Temperature : °C