Spotted moray, een 22 december zelfs een eagle ray naast de visser's pier. Verder …
30 m Visibility
27 °C - 20 m
Willy, Debbie en Alex
22-9-20
O.a een enorme tandbaars en schildpad gezien. Leuke duik en goed zicht in tegenstelling …
35 m Visibility
30 °C - 20 m
Willy, Debbie, Alex en Gerty
16-9-20
Helaas geen baitball, wel veel ander moois.
30 m Visibility
29 °C - 30 m
Vuurworm, Fr.&Queen Angelfish, witgevlekte murene, div.Anemone, Spibkrab, Hogfish, Sandeal
10 m Visibility
28 °C - 10 m
Nachtduik: Coral Spawning, gezien, mooi! Zwart/witte lobster, Langoest, veel anemone, …
5 m Visibility
28 °C - 15 m
Scorpionfish, queenangelfish
Sterke sroming.leuke duik. Met nieuwe koraal aanwas.
25 m Visibility
27 °C - 20 m
Zeeduivel Willy en Debbie
4-10-18
Wederom in een baitball gezwommen. Ditmaal nog meer vis dan van de week. Ook nog een …
25 m Visibility
29 °C - 30 m
Zeeduivel Willy en Debbie
2-10-18
Supermooie duik. Middenin een baitball gezwommen. Een grote horsmakreel en tonijnen waren …
25 m Visibility
29 °C - 25 m
Zeeduivel Willy en Debbie
1-10-18
Gisteren de andere kant op gegaan en dat was een goede keuze.
25 m Visibility
29 °C - 30 m
Zeeduivel Willy en Debbie
30-9-18
Wat een mooie duik. Van alles wat gezien van klein tot groot leven. Slakjes, garnaaltjes, …
25 m Visibility
29 °C - 15 m
Something special, eerst terecht gekomen in een fish bait ball, geweldig, maar toen kwam …
De riffen zijn hier geweldig. Heel veel trompet vissen, groene mureen.
25 m Visibility
26 °C - 35 m
Awesome dive. Much more life than our last visit!
Een relaxte duik, lekker gesnuffeld naar macrospul. Garnaaltjes, een sla-slakje en veel vis.
SOMETHING SPECIAL
Bonaire
Something Special is something special. It's a dive site with a high biodiversity that is loved by divers and snorkelers. The site consists of a mixture of hard and soft corals, sand bottoms and areas with old rubble. The rubble patches are beautifully overgrown, which attracts fish in all shapes and sizes. You'll find even more marine life along the wall. Something Special is ideal for wide-angle photography and night diving.
Particulars
Something Special is an easy dive site to enter. Simply walk down the small hill that leads to the water. Descend early and stay close to the bottom to avoid boats. Then swim in the direction of the yellow buoy that marks the dive site.
Warnings
Be aware of boats! Sometimes strong currents. Snorkeling only inside the line of moorings and well away from the harbor. Don't block houses and businesses when parking.
Read more
SOMETHING SPECIAL Features
Nicknames

Playa Pabou

Address

Kaya Playa Lechi

Parking

Sufficient parking
Distance

40 m.

Suitable for

Beginners, underwater photography, advanced divers, night diving, snorkelers

Permit

Bonaire Nature Tag

Access

Nature fee, free access

Facilities

Boat dive facilities

Water

Salt

Kind of dive

Shore dive, boat dive, snorkeling, night dive

Current

Limited

Visibility

20 - 40 m.

Average visibility

30 m.

Depth

30 m.

Bottom

sand and coral

Life

Yellowhead jawfish, frogfish, regal angelfish, turtle, parrotfish

Other recreation

Boating, yachting

Emergency

912
SOMETHING SPECIAL Photos and Images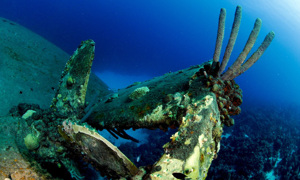 Current weather conditions
Wind :
Condition :
Temperature : °C