Walter, Daan en Erwin
16-01-2022
Heel wat beluchtingslangen tegengekomen. Dit project werpt zijn …
5 m Visibility
7 °C - 15 m
Wegens slecht zicht berichten 2,5 niet meer hier geweest. Maar …
4 m Visibility
7 °C - 10 m
Oliebollen clubduik met 10 leden. In de put is de meerval gezien …
4 m Visibility
7 °C - 10 m
Dirk en Jeroen
15-12-2021
Avond duik in Haarlemmermeerse bos. Goed zicht. Paling, grote …
4 m Visibility
8 °C - 15 m
Voor het eerst sinds tweeënhalf jaar hier weer gedoken. Lange …
3 m Visibility
8 °C - 15 m
Goed zicht en meerval op 20m
4 m Visibility
7 °C - 20 m
4 m Visibility
9 °C - 20 m
Erik Vollebregt
21-11-2021
Mooie duik met prima zicht, heel veel vis met jagende snoek …
8 m Visibility
12 °C - 10 m
3 m Visibility
10 °C - 15 m
Slecht zicht 1 tot 2 meter. Veel vlokken en stof. Geen vis te zien?
2 m Visibility
15 °C - 10 m
Axel Gunderson
30-08-2021
Slecht zicht maar mega veel jonge baars, snoekbaars,pos en …
1 m Visibility
20 °C - 10 m
Axel Gunderson
30-08-2021
Zicht nog steeds slecht. Zwemwater oke
2 m Visibility
20 °C - 0 m
Bar slecht zicht, maar wel veel jonge vis op de bodem en bij het …
1 m Visibility
21 °C - 12 m
Helaas zeer slecht zicht, zowel diep als ondiep
1 m Visibility
13 °C - 10 m
HAARLEMMERMEERSE BOS PAVILJOEN
Nederland, Noord Holland
Haarlemmermeerse Bos is a surprisingly beautiful and diverse dive site. The site has massive clay walls. You spot carp between water plants and large pike-perch on the sandy bottom. Also look under the pavilion to spot large schools of whitefish and eels. Sometimes you see the eels hunt for small fish. The clay walls are located between 5 and 9 meters. You will see crayfish, pike and occasionally a catfish. Haarlemmermeerse Bos is also called Vork and Mes named after the nearby restaurant.
Particulars
Enter the water from the grass bank. At one of the entry points lies a large flat rock, where you can use as gea up bank. The water of the Haarlemmermeerse Bos is relatively clear. Also check out the shallow cove in the north corner (see map).
Warnings
Be aware of fishing lines. Fishermen cast their lines sometimes far into the lake.
Read more
HAARLEMMERMEERSE BOS PAVILJOEN Divemaps
1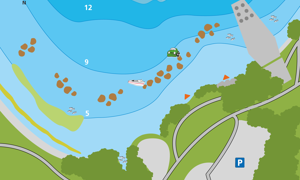 Members only
Divers Guide Map

Detailed map

Wreck map

Local map
HAARLEMMERMEERSE BOS PAVILJOEN Features
Nicknames

Paviljoen Hoofddorp,Vork en Mes

Address

Paviljoenlaan 1, 2131 LZ Hoofddorp

Parking

Sufficient parking
Distance

50 m.

Suitable for

Experienced divers, disabled divers (via beach or flat rocks) , underwater photography, all levels

Permit

N.v.t. / NA

Access

Free access

Facilities

Restaurant Papa's Beach House, restaurant with terrace

Water

Fresh

Kind of dive

Shore dive

Current

None

Visibility

2 - 10 m.

Average visibility

4 m.

Depth

20 m.

Bottom

zand en klei

Life

Perch, bream, carp, eel, pike, pike-perch, roach, tench, ruffe

Other recreation

Recreational park

Emergency

112
Current weather conditions
Wind :
Condition :
Temperature : °C