Relaxte duik met stingray, eagleray, murene, schildpadden, …
30 m Visibility
28 °C - 20 m
Suzanne Ranner
25-04-2019
Super duik! meer dan 17 schildpadden. Heel veel ( grote) roggen …
Met boot tot het plateau gevaren. 30 tot 40 schilpadden op de …
15 m Visibility
26 °C - 20 m
Prachtige velden waaierkraal met even verder tientallen verdoken …
20 m Visibility
27 °C - 10 m
Mooi zacht koraal met tientallen schildpadden, zeker een aanrader.
Bootduik. Ondiep plateau met zacht koraal en ontzettend veel schildpadden.
10 m Visibility
27 °C - 5 m
Aparte duik met oneindig groot veld van waaiers zacht koraal. …
20 m Visibility
26 °C - 15 m
Ondiep plateau met prachtig zachtkoraal dat op de deining …
10 m Visibility
27 °C - 5 m
Bunaken, Schildpadden, Bumpheads, Napoleon, Travelly's en nog veel meer.
30 m Visibility
29 °C - 25 m
Gedoken vanaf White hole richting Turtle City. Ongeveer 30 …
30 m Visibility
29 °C - 15 m
Nursshark eagle rays stingrays groene murene en groene …
18 m Visibility
27 °C - 20 m
Mooie waaiers veel schildpadden en een verpeegsterhaai!
15 m Visibility
28 °C - 20 m
Bootduik. Mooi rif met veel waaiers. Stek doet zijn naam eer …
20 m Visibility
27 °C - 20 m
Turtle City or Turtle Country is a unique dive site. It's the huge number of turtles living here, that makes it special. During the day you'll find them resting on small stretches of sand between the coral. It is not unusual to spot 20 or more while diving. Look around for some activity. Some will be sleeping or eating or making their way to the surface to catch a breath of fresh air. Dive with a local guide, especially in harsh weather conditions.
Particulars
Enter the water from the shore or the boat. Turtle City is often combined with a White Hole. Both are magnificent dive sites.
Warnings
Always dive with a local guide and preferably by boat. The dive site remains shallow for a long time.
Read more
TURTLE CITY Features
Nicknames

Turtle Country

Address

Nabij Lac Bay, Oost-Bonaire

Parking

N/A
Distance

Geen

Suitable for

Experienced divers with guide

Permit

Bonaire Nature Tag

Access

Nature fee

Facilities

Boat dive facilities

Water

Salt

Kind of dive

Boat dive

Current

Strong

Visibility

10 - 30 m.

Average visibility

20 m.

Depth

45 m.

Bottom

koraal

Life

Tarpon, ray, lobster, turtle

Other recreation

None

Emergency

912
TURTLE CITY Photos and Images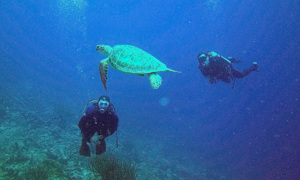 Current weather conditions
Wind :
Condition :
Temperature : °C