WESTKAPELLE
Peter Ampts
Nederland, Zeeland
15-07-23
Matig zicht. Ongeveer 50 cm. Palen prachtig begroeid met anjelieren. Duikbril (op sterkte) verloren bij uitstappen nabij de bunker.
WESTKAPELLE
Maarten Rypens
Nederland, Zeeland
31-12-18
Zicht max 10cm. Als het al zoveel was. Enorme stroming en golven. We komen nog terug in 2019!
WESTKAPELLE
WESTKAPELLE
Nederland, Zeeland
4-06-17
Heel mooie duik van 70 minuten op laagtij tussen de overblijfselen van de wereldoorlog. Zeer sterke stroming en deining.
WESTKAPELLE
WESTKAPELLE
Nederland, Zeeland
27-05-17
Op laag water gedoken. Allerlei oorlogsverleden gezien als bunker, amfibivoertuig, anker en paalhoofden. Mooie anemonen, Noordzeekrabben
WESTKAPELLE
Chris
Nederland, Zeeland
5-12-16
Verl klein leven. Veel krabjes. Anemoontjes(?) Kleine zut. Maar mooi! Zicht wisselend tussen erg slecht en afwezig.
WESTKAPELLE
Tuteleers P
Nederland, Zeeland
25-09-16
Prachtduik gedaan. Met al die wrakken voelde ik mij als een kleine in een bollenwinkel. Ik ga zeker terug. ondergewaardeerde duikstek.
WESTKAPELLE
Thierry V.
Nederland, Zeeland
25-09-16
Fantastische duik op HT op een plek met geschiedenis. Aanrader voor wrakduikers. Liefst op doodtij. Goed zicht.
WESTKAPELLE
Linda
Nederland, Zeeland
20-11-15
Zicht echt nul. Kom mn console niet aflezen en niet zien dat mn lamp het deed. dus na een minuutje bodem voelen er weer uit....
WESTKAPELLE
Petra Z.
Nederland, Zeeland
1-11-15
Slecht zicht maar toch zeerasp-knotsslak en hemelsblauwe knotsslak gespot. Ook nog een groene zeedonderpad en veel dodemansduim gezien.
WESTKAPELLE
Jojo
Nederland, Zeeland
1-11-15
Zicht was minder dan 0,5 mtr! Hopelijk binnenkort beter zicht.
WESTKAPELLE

89
Nederland, Zeeland
Dive Site Westkapelle is full of WO II remnants, including an anchor, old tank parts, tank barriers, a turret, an amphibious vehicle and an old bunker, which risies above the surface. Only dive here at low tide and keep in contact with the bottom to avoid sharp objects. Cuttlefish are regullarly seen here in spring. Take a look at the cuttlefish racks which are placed here by divers.
Particulars
To reach the entry point a long walk has to be made. visibility is best around neap tide and with almost no wind. Enter the water where the bunker rises above water. Swim with the posts on your right to find the bunker, the amphibious vessel and the turret. Most remnants of the war can be found between five and seven meters. The tank barriers behind the clay ledge lie at a depht of 5 meters.
Warnings
Don't dive at Westkapelle with wind speeds faster than 2. Don't enter the bunker. Stop diving when currents are too strong.
Read more
WESTKAPELLE Features
Nicknames

Strand Westkapelle

Address

Achterweg Westkapelle P1, Zuiderhoofdweg, Westkapelle P2

Parking

Paid parking
Distance

800 m.

Suitable for

Very excperienced divers

Permit

N.v.t / NA

Access

Free access

Facilities

Restaurant

Water

Salt

Tide

LW

Kind of dive

Boat dive, shore dive

Current

Limited, very strong

Visibility

0,5 - 2 m.

Average visibility

1 m.

Depth

7 m.

Bottom

klei en zand

Life

Dead man's finger, stalked sea squirt, lobster, north sea crab, starfish

Other recreation

Beach, kite surfing

Emergency

112
WESTKAPELLE Photos and Images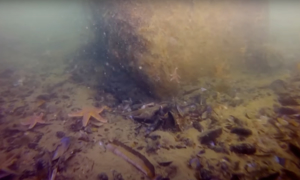 Current weather conditions
Wind :
Condition :
Temperature : °C