BLAUSTEINSEE
Mike
Duitsland,
6-06-23
Poor visibility ( 0.5m) above 6m. Below 10 maximum 5m\nCold dive
BLAUSTEINSEE
Klaas
Duitsland,
22-05-22
Dieper dan 10m redelijk zicht. Daarboven slecht . Eerste keer blausteinsee.
BLAUSTEINSEE
Duikcentrum Dolphin Buddys
Duitsland,
13-02-22
Twee mooie maar koude duiken onder een stralende winterzon. Touwenparcours gevolgd en een geocache gevonden. Mooi natuurgebied
BLAUSTEINSEE
Sjef Bovens
Duitsland,
12-07-20
Eerste duik op deze lokatie. Duikpak is echt nodig. Eerste 7 mrt minimaal zicht daaronder prima
BLAUSTEINSEE
CS
Duitsland,
28-04-19
Tussen 0 en 7 is het zicht minder , maar onder de 7 m is het zicht erg goed
BLAUSTEINSEE
Rvs
Duitsland,
23-02-19
Zicht was zeer matig, zelfs op diepte jammer.
BLAUSTEINSEE
Georg S.
Duitsland,
3-06-18
We made the dives for Deep-Specialty. It was not very funny for the students because of zhe visibility.
BLAUSTEINSEE
Mike
Duitsland,
12-09-16
Nice visibility for the moment
BLAUSTEINSEE
Armand
Duitsland,
27-04-16
De instap is beter gemaakt
BLAUSTEINSEE
M&M
Duitsland,
22-01-16
Leuke duikstek, diep duiken...donker maar kraakhelder. Touwparcours vrachtwagens, platform, buizen, fietser, kreeften en een snoek op 27m
BLAUSTEINSEE
A.Nicolai
Duitsland,
25-01-15
Leuk duik plek voor eens diep te gaan
BLAUSTEINSEE
Roger
Duitsland,
23-07-14
The Blausteinsee is an ancient lignite excavation, just across the border with Maastricht. It is a nice dive site, although it gets pretty cold at a depth of 10 meters. Two underwater forests and various wrecks make Blausteinsee interesting. Especially at night time you can spot a lot of life. You can see an abundance of perch and eels. Check opening hours and entry fee.
Particulars
If you want to spot fish in the Blausteinsee during daytime, try looking among the vegetation. Great for night dives. The Blausteinsee is a deep dive site, up to 40 meters. The facilities are great.
Warnings
Check opening hours before leaving. Use a proper dive suit, it gets cold, even in summer. Don't make a straight ascent from 14 meters or deeper. Best visibility under 10 meters.
Read more
BLAUSTEINSEE Features
Address

Zum Blausteinsee, 52249 Eschweiler

Parking

Sufficient parking

Distance

65 m.
Suitable for

Beginners (gradually sloping bottom), deep diving, several platforms and some facilities, advanced divers, night diving, scuba diving practice (fenced-off area)

Permit

N.v.t / NA

Access

Restricted access

Facilities

Cafetaria, diving school, dive shop, toilets, fill station

Water

Fresh

Kind of dive

Shore dive, deep diving

Current

None

Visibility

0,5 -10 m.

Average visibility

4 m.

Depth

40 m.

Bottom

zand en kiezel(stenen) of grind

Life

Perch, eel, pike, roach

Other recreation

Wind surfing , sailing

Emergency

112
BLAUSTEINSEE Photos and Images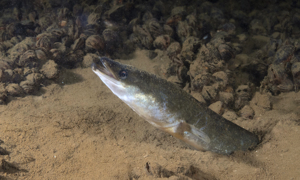 Current weather conditions
Wind :
Condition :
Temperature : °C