Nederland, Zeeland
DE HOEK GALJOEN ZONDER POEN 68
Zicht niet geweldig. Veel grote kreeften en noordzee krab op het wrak.
2 m Visibility
6 °C - m
Mosdiertje harlekijnslakjes bruine plooislakjes
2 m Visibility
16 °C - m
peter van den borne
30-7-19
Veel stof in het water. Met veel geluk op het wrak gekomen. Enkele zeer grote Noordzee krabben
1 m Visibility
20 °C - m
Redelijk wat duikers daardoor behoorlijk veel stof. Wrak lag er goed bij en op terugweg …
4 m Visibility
18 °C - m
Galjoentje gevonden, redelijk zicht op diepte, bovenste laag veel stof, zal door de andere …
2 m Visibility
14 °C - m
Pieterjan en Anton Versluis.
25-5-19
stromininsduikje in de avond. Lekker rustig en redelijk goed zicht met pijlinktvis eieren
3 m Visibility
14 °C - m
Bij het check de stek voor de duik een bruinvis gespot op de duikplek die druk aan het …
1 m Visibility
12 °C - m
Snotolf gezien 4m5 diepte bij hoogwater Aan paal 1605 trap richting tettjes
1 m Visibility
9 °C - m
Galjoentje bedoken, redelijk zicht veel slakjes en duiklood.... 😁
4 m Visibility
8 °C - m
4 m Visibility
10 °C - m
Mooie duik, heremietkreeft, naalden en noordzeekrabben, wel bezoek van 2 vissersschepen.
5 m Visibility
14 °C - m
Leuke duik goed zicht op het wrak. Ook wat visserslijnen en lood verwijderd ;)
4 m Visibility
14 °C - m
Sheldon de Kudbelg
23-9-18
Nachtduik LW Vele steenbolken bij de wrak, 3 pijlstaartinktvissen. 15 min. later grote …
4 m Visibility
17 °C - m
Pas op! Gevaar voor duikers door schip de Beatrix 2 uit Yerseke!
3 m Visibility
18 °C - m
Denis B. en Thierry d. R.
16-9-18
Prima duik op het wrak. School steenbolk, hooiwagenkrab, botervis, schol en natuurlijk de kreeften.
3 m Visibility
18 °C - m
DE HOEK GALJOEN ZONDER POEN

68
Nederland, Zeeland
Galjoen zonder Poen is a wreck that lies a five minute swim off shore at a depth of 25 meters. The wreck stands upright and is partially covered with sand, with the bow and the rafters as most striking features. The starboard side of the ship is recognizable, while the port has completely fallen aparte. Dive at low tide, when the wreck is easier to find. If you want to dive at high tide, dive only along the shore. This area is nicely covered with sponges and purple star tunicate.
Particulars
Climb down the stairs into the water and swim in northern direction, while compensating for the strong current. When you reach a trench between 23 an 26 meters you're getting close. The origin of the wreck is unknown. According to most sources, it's a fishing boat.
Warnings
Dive at low tide. At low tide the wreck lies less deep, visibility is better and you can swim along with the current while searching. Faiway! Don't make a free ascent.
Read more
DE HOEK GALJOEN ZONDER POEN Divemaps
1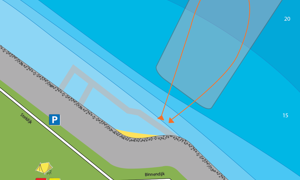 Members only
Divers Guide Map

Detailed map

Wreck map

Local map
DE HOEK GALJOEN ZONDER POEN Features
Nicknames

Galjoen zonder poen,De Hoek,Wemeldinge West

Address

Binnendijkweg, Wemeldinge

Parking

Sufficient parking
Distance

100 m.

Suitable for

Experienced divers

Permit

N.v.t. / NA

Access

Free access

Facilities

Camping, dixi-toilets in summer season, restaurant, stairs, fill station

Water

Salt

Tide

LW en HW

Kind of dive

Shore dive

Current

Very strong

Visibility

2 - 5 m.

Average visibility

3 m.

Depth

40 m.

Bottom

zand en stenen

Life

Clownfish, orange-striped anemone, sea squirt, Cuthona gymnota (seasnail), japanese sargassum, cod, lobster, north sea crab, peacock worm, squid, porcelain crab, catfish, sponge, pouting

Other recreation

Small beach

Emergency

112
Current weather conditions
Wind :
Condition :
Temperature : °C