SS MARGIT
Adrie
Malta,
12-11-19
Slecht weer Regen en harde wind
SS MARGIT
Ben en Veronique
Malta,
26-08-18
De enige op de stek, daardoor redelijk tot goed zicht. Heel grote grouper gespot en veel nudi branches.
SS MARGIT
Sylvester
Malta,
5-01-18
Zeer slecht zicht gehad, wel mooie duik gehad.
SS MARGIT
Sylvester
Malta,
3-01-18
Een paar dagen zware stormen geweest. Ongeveer de enige duikplaats die doenbaar was door het weer. Diveshop buddies als gids.
The SS Margit is an Italian steamfreighter also known as MV Odile and was bombed during the Second World War and now lies broken on the sea floor. She faces northwest and is lying on her port side and is accessible from both sides of Kalkara Creek since it is located right in the middle of the inlet. There are four access points, two on the Vittoriosa side and two on the Kalkara side. Investigate the acces points and choose the one to your liking! (see dive maps). Sheltered for bad weather influences, especially with north western winds it is busy with divers.
Particulars
Built in 1912. On 19th April 1941 while moored in Kalkara Creek (berth no. 14) hit by German bombers and sank. In 1943 her funnel and masts that were still visible at the surface were demolished with explosives to make room at berth 14 for other ships to anchor again.
Warnings
Boats on surface! Entereing the ship is only for very experienced wreck divers.
Read more
SS MARGIT Features
Nicknames

Kalkara Creek, Margit, MV Odile

Address

Kalkara Creek, Xatt Il - Forn, Birgu, Malta

Parking

Sufficient parking
Distance

100 m.

Suitable for

All levels, day out with the family

Permit

N.v.t.

Access

Free access, stairs or ladder, giant stride, across uneven terrain

Facilities

Restaurants

Water

Salt

Tide

N.v.t.

Kind of dive

Shore dive, wreck dive, harbour dive

Current

None

Visibility

5 - 20 m.

Average visibility

10 m.

Depth

24 m.

Bottom

fijn slik en zand,rotsen

Life

Crab, small marine life

Other recreation

Marina, swimming , yacht watching, boating, yachting

Emergency

112
SS MARGIT Photos and Images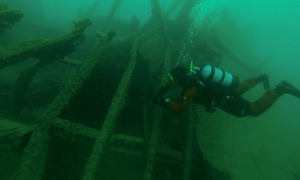 Current weather conditions
Wind :
Condition :
Temperature : °C