Although technical divers from UK and Malta believed that they had found the wreck way back in 2008, after it transpired that it was not the HMS Olympus. Later, in 2012, it was announced that it had been finally located. About hundred men were on board Olympus on that fateful night, 8th May 1942, her own crew plus other survivors from different sunken vessels, HMS Pandora, HMS P36 and HMS P39 on their way to Gibraltar when it struck a mine, 6 miles out from St Elmo's Light. Only eleven men made it to the shore. This was a wartime tragedy of epic proportions making this vessel a wargrave and a 'no-touch'.
Particulars
HMS Olympus, an O- or Odin-Class submarine, was commissioned in 1930. This class submarine measured 86.5 meters length, 6.1 meters width and had a draft of 4.9 meters. Her displacement was 1,781 tons surfaced and 2,038 tons when submerged.
Warnings
The wreck is a wargrave and must be respected as such and to be left untouched: Look don't touch!
Read more
H.M.S. OLYMPUS Features
Nicknames

HMS OLYMPUS

Address

N.v.t. N/A

Parking

At boat charter
Distance

30 min.

Suitable for

Technical diving

Permit

N.v.t.

Access

Free access, by shot line or anchor line

Facilities

None

Water

Salt

Tide

N.v.t.

Kind of dive

Explorer dive, wreck dive, boat dive, technical diving

Current

Limited, strong, variable

Visibility

20 - 40 m.

Average visibility

30 m.

Depth

120 m.

Bottom

zand

Life

Tuna, john dory or peter's fish

Emergency

112
H.M.S. OLYMPUS Photos and Images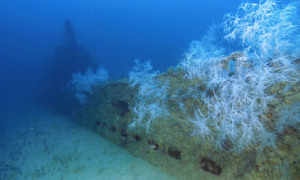 Current weather conditions
Wind :
Condition :
Temperature : °C