Harald den Houter
16-01-2022
We gingen natuurlijk voor het loodwrak en dat hebben we gevonden, …
StartDuiken.nl
16-01-2022
Vandaag heerlijke duik op het Loodwrak. In no time bij het …
10 m Visibility
7 °C - 35 m
Rogier & Jeroen
15-01-2022
Prachtige duik op het touw- & loodwrak. Op heen en terug weg …
10 m Visibility
6 °C - 15 m
Lood en touw wrak bezocht
5 m Visibility
7 °C - 50 m
Kamil Malkowski
13-05-2021
Goede zicht circa 5-6 m , water temperatuur op het bodem 7 graden …
5 m Visibility
7 °C - 40 m
Duik gemaakt op het loodwrak aardig eind uitzwemmen en zonder …
4 m Visibility
6 °C - 40 m
Heerlijke duik, prima zicht en temperatuur! Zicht op touwwrak …
10 m Visibility
8 °C - 40 m
Coole duik! Goed zicht, weinig leven. Wel een paar tarbot. …
10 m Visibility
8 °C - 10 m
Albert en Michael
21-12-2020
Heel goed zicht en onderweg naar de wrakjes best nog wel wat …
10 m Visibility
10 °C - 8 m
Wisselend zicht. Tot 23m diepte ongeveer 2 à 3m zicht. Daarna …
3 m Visibility
10 °C - 35 m
Carolien & Niels
6-10-2020
Helemaal niet de moeite. Slecht zicht, enorm veel waterplanten …
3 m Visibility
15 °C - 10 m
Beetje stoffig, wat grote veenblokken, weinig tot geen leven te …
3 m Visibility
10 °C - 30 m
Ondiep was het zicht circa 4 meter. Dieper was het zich circa 2 …
2 m Visibility
8 °C - 5 m
LOV Calypso duikers
15-02-2020
Rondje lood- en touwwrak. Prima zicht, beetje stof door de deining.
5 m Visibility
6 °C - 40 m
Gerard en Ruud
30-01-2020
Op zoek naar loodwrak.helaas volgende keer beter.
6 m Visibility
6 °C - 35 m
SLAG BERGEEND
Nederland, Zuid Holland
Slag Bergeend is, at its shallow part, great for beginners and snorkelers. Experienced divers come here especially for the lead wreck or the cliff. Swim for both the wreck and the cliff 300 meters out from the breakwater. The wreck is at 143 degrees and the cliff is at 160 degrees.
Particulars
The lead wreck is at 35meters depth and difficult to find. Good preparation is required. Improving visibility and increasing number of life forms as a result of saltwater inflows through the Beerkanaal.
Read more
SLAG BERGEEND Features
Nicknames

Oostvoornse Meer Slag Bergeend

Address

Noordoever 3, 3233 Oostvoorne

Parking

Sufficient parking
Distance

25 m.

Suitable for

Scuba diving practice, snorkeling (shallow area), very excperienced divers

Permit

N.v.t.

Access

Free access

Facilities

None

Water

Brackish

Kind of dive

Shore dive, snorkeling

Current

None

Visibility

3 - 12 m.

Average visibility

4 m.

Depth

43 m.

Bottom

zand

Life

Common prawn, flatfish, crab, shrimp

Other recreation

None

Emergency

112
SLAG BERGEEND Photos and Images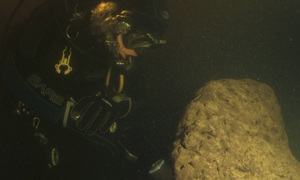 Current weather conditions
Wind :
Condition :
Temperature : °C