Hangcultuur was minder deze keer, toen naar platform. Grote …
4 m Visibility
5 °C - 10 m
Harald den Houter
26-12-2021
Mooie maar wel koude duik. Op weg naar de hangcultuur een zeehond …
20 🚘, veel pauwkokerwormen. Via t touw richting ondieper; …
6 m Visibility
10 °C - 10 m
20🚙🌞, het vele bekende leven. Was een fijne duik, op de …
4 m Visibility
18 °C - 10 m
Jelle Jan en Robert
7-09-2021
2 duiken gemaakt van meer dan 60 minuten. eindelijk mij eerste …
4 m Visibility
19 °C - 15 m
Eerste keer hier. Leuke dingen gezien. Geen sepias. Slecht zicht. …
2 m Visibility
18 °C - 15 m
Anne-José & Hans
27-08-2021
Platvorm met heeeeel veel steenbolken. Harlekijnslakje en groene …
2 m Visibility
18 °C - 10 m
Mooi om met goed zicht langs de hangculturen te duiken. Op de …
6 m Visibility
19 °C - 15 m
heerlijk 2 duikjes sepia\'s sepiolas kreeftjes veel vis
Jeroen de Veld & Arno Hueting
11-08-2021
9 (parende) sepia's in één duik. Zicht niet geweldig.
2 m Visibility
18 °C - 10 m
Rene en patrick
8-08-2021
Ondanks de wind toch redelijk zicht. Sepia's gespot. Zeenaald, …
3 m Visibility
17 °C - 10 m
Windkracht 5 uit zuidwest dus zeer slecht zicht tot 5 meter. …
1 m Visibility
20 °C - 10 m
Beperkt zicht, op diepte prima…
2 m Visibility
20 °C - 5 m
Kokerwormen en jonge snotolfjes.
5 m Visibility
16 °C - 12 m
De zeep/de muug
1-07-2021
Kokerwormen, baby snotolf
4 m Visibility
18 °C - 10 m
BERGSE DIEPSLUIS HANGCULTUUR

81A
Nederland, Zeeland
Bergse Diepsluis Hangcultuur is a well known dive site with beautiful suspended mussel cultures. Walk from the parking lot at Bergse Diepsluis Oesterdam (81), west along the dike and enter the water where the suspended mussel cultures are marked with blue buoys. The mussels are overgrown with beautiful vegetation and provide shelter to numerous skeleton shrimps.
Particulars
Bergse Diepsluis Hangcultuur is known for its squids and cuttlefish. They visit this dive site in May and June to mate. Every year special cuttlefish racks are placed by volunteers, on which they can lay their eggs. This beautiful spectacle is an annual attraction for thousends of divers. As a bonus, Bergse Diepsluis lies in a tributary of the Oosterschelde, which makes the tidal effect almost nonexistent.
Warnings
Don't dive at Bergse Diepsluis Hangcultuur when the fishermen are at work. Don't touch the mussels.
Read more
BERGSE DIEPSLUIS HANGCULTUUR Divemaps
1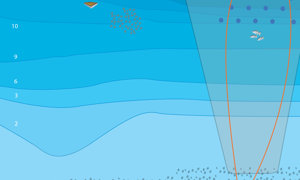 Members only
Divers Guide Map

Detailed map

Wreck map

Local map
BERGSE DIEPSLUIS HANGCULTUUR Features
Nicknames

Veerweg

Address

Veerweg, Tholen

Parking

Sufficient parking
Distance

250 m.

Suitable for

All levels, groups, night diving, underwater photography

Permit

N.v.t. / NA

Access

Free access

Facilities

Mobile toilet (april - oktober)

Water

Salt

Tide

LW, HW en daarbuiten

Kind of dive

Shore dive

Current

None

Visibility

3 - 7 m.

Average visibility

3 m.

Depth

19 m.

Bottom

zand

Life

Anemone, flounder, butterfish, shrimp, goby, flathead grey mullet or striped mullet, common hermit crab, lobster, mussel, suspended mussel culture, oyster, eel, plaice, catfish, skeleton shrimp, flutefish

Other recreation

Surfing , rambling

Emergency

112
Current weather conditions
Wind :
Condition :
Temperature : °C